After some thought, debate, and rounds of voting the staff at OurVinyl has chosen our choices for the Best LPs of 2010. As said before, "best" can be a frighteningly inflexible adjective to deem upon an album as we all experience music in different manners. So we tried to think of our choices in a most comprehensive way and then give you our top choices in the "High Fidelity" style, that is to say our top 5 choices – plus a couple honorable mentions. Feel free to let us know if you agree with the choices or not.
1. The Black Keys' "Brothers": Released in May, "Brothers" is the 6th studio release from vocalist/guitarist Dan Auerbach and drummer/producer Patrick Carney, who together comprise The Black Keys. And while midwestern blues rock fans have known about this duo's impressive skills for many years; it was "Brothers" that finally put this band on the proverbial map, or maybe we should say globe now. The Black Keys create minimalist blues-rock that can range from songs that grizzly thud along, frolic with funkiness, or are simple toe-tapping blues pop songs. And with "Brothers" they have infused a new found momentum and spirit into a genre which many people might have previously perceived as static, and as of recently – relatively uncreative. With songs such as the side-stepping Tighten Up, the fist pumping Everlasting Light, and the groovy marching Howlin' For You the Black Keys have reminded us that the power of the intrigue of the drums and guitar shall never die – when they are handled with as much adroit skill as Dan and Pat have.
2. Mumford and Sons' "Sigh No More" : "Sigh No More" was released in the US in February, but before that some word had crept over the pond of this band playing a new brand of folk/bluegrass/rock that was blowing people away. The LP has 12 tracks, and each one is a solid example of music and lyric composition. This four piece band uses guitar, upright bass, banjo, mandolin, dobro, accordion and trumpet (they can each play a variety of instruments) to create for varied and sonically powerful folk music. They seem to draw on the influences so evenly (and so well) of folk, rock, blues, country, bluegrass, etc that they have created for a sound almost all their own. Many songs take their time to manufacture a sincere but formidable momentum and blossom into captivating crescendos. All the while they are dispelling lyrical wisdom with a focus on love and life's deepest matters. Their messages are strong and direct, yet unpretentious and humble. Those messages within "Sigh No More", when fused with their sensational musicianship, created for an awe-insprirring LP that is almost the definition of something which is "greater than the sum of it's parts."
3. MGMT's "Congratulations" : The release of MGMT's second LP, "Congratulations", initially surprised a good deal of people. One, because there were no supplemental rave-friendly single-sensations songs (as there was on their 1st), and because while they switched into a different sound, it was still one they mastered. Apparently dealing with the disillusions of success, and some of the revelations and creative allowances it can give to musicians, MGMT with "Congratulations" gave us a psychedelic-pop album that is really meant to be listened to as an album and not viewed as simply a collection of recently written songs. In songs such as Song For Dan Treacy they display an ability to created for a high tempoed song, that comes off as un-hurried and laid back with wonderful, yet musical, psychedelic highlights floating through the stereo field. In Siberiak Breaks we witness a 12 min song, with numerous movements, they somehow make relate to each other through witty and ear-catching musical transformations. And then with others, like Congratulations , they give us a thought-provoking slow burner that is quite unique but has a certain universal appeal. And while they upset some by making an LP that you might not put on at a dance party; they created for one you can put on in most any other situation – and more importantly proved an uncommon multi-dimensionalism. "Congratulations" has us eagerly thinking; wow, what will the next one be like?!?
4. Arcade Fire's "The Suburbs" : In "Funeral" Arcade FIre was thinking upon mortality, "Neon Bible" pondered upon religion, but with "The Suburbs" they decided to contemplate upon the reality of the average person living in western, urban society. On this LP Arcade Fire have given us their best example yet of how a band comprised of many musicians and instruments can create balanced, non-cluttered, captivatingly distinct collection of indie pop/rock songs. "The Suburbs" is full of simple and catchy drum lines, around which they skillfully build melodies and sonic highlights, which result in complex but uncomplicated songs which the ear begs to hear again. With Modern Man we have a sauntering and catchy mid tempo song which shows their mastership of the basics. In The Suburbs we have a piano-leading acoustic rock song infused with a tuneful 'swing', and contains a hauntingly chorus with subtle psychedelic effects that build as the song progresses. And in Sprawl II (Mountains beyond Mountains), the albums definite climax, we find a 5 1/2 minute song of wonderfully addictive electro-rock philosophizing upon the urban sprawl most of us reside within. It's one not certain to be forgotten for some time, and neither will "The Suburbs."
5. Kanye West's "My Beautiful Dark Twisted Fantasy" : In the opening song of Kanye's latest LP, we are asked, "can we get much higher?" Well Kanye if you make LPs like this, maybe you haven't hit your glass ceiling at all. "My Beautiful Dark Twisted Fantasy" is a showcase of hip-hop production dynamism. Sluggish and slightly "underground-sounding" songs like Gorgeous and Devil in a New Dress. Toe-tapping power ballads like Power, Monster and Runaway. Genre blurring, highly modern numbers like Lost in the World and Dark Fantasy. He has nailed down each of these types of hip hop songs with dexterous production skills. With "My Dark Beautiful Fantasy" Kanye has reminded us of the versatility and captivating potential of hip-hop (something that has been forgotten for the most part in 2010).
Honorable Mentions
The Brian Jonestown Massacre's "Who Killed Sgt Pepper?" : Anton Newcombe, the leader of The Brian Jonestown Massacre through their 12 studio releases, is one of the most influential musicians that most people have never heard of. For "Who Killed Sgt Pepper" Anton has moved away from his usual realms of 60's psychedelic rock, or aggressive-psych rock, and created a collection of songs rooted more in electric-beat foundations. But really, the best way to describe it, is to say its very hard to describe – but damn good. With some songs that take on upbeat eastern sounds, others that are more dark and industrial, and still others that are experiments in chaotic electric, BJM has created for a spectrum of music few bands would ever attempt to put on one records. We are being challenged to drop the former way of thinking about psychedelic music, and get ready to move our feet while we are at it. And while in many respects 2010 was the year of electro-rock, this album is still unquestionably ahead of it's time.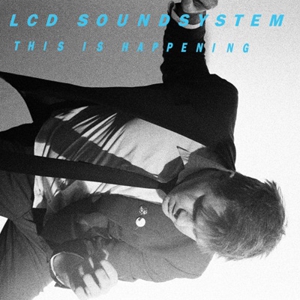 LCD Soundsystem's "This Is Happening" : James Murphy, the leader of LCD Soundsystem, claims this album will be their last. But after the release of "This Is Happening", their third LP, and the praise and respect that it has started to gain for this band's music – let's hope James' retirement is of the Jay-z and Brett Favre kinds.  "This Is Happening" is great example of a band that plays electro-rock, new-disco, or whatever name you want to give to the type of fist-pumping-friendly music that continued to blow up in 2010. "This Is Happening" is filled with 9 songs, each relatively pretty long (6+ min average), that are each well developed, dynamic, and vigorous with energy. As long as you like dancing just even a little bit, or maybe just nodding your head with enthusiasm, you will probably like this album. LCD Soundsystem has transcended traditional genre boundaries with "This Is Happening" and in doing so created for one of the year's best LPs.