What comes to mind when you hear the name Kristin Chenoweth? Probably not music! But let me shed some light on this Emmy and Tony Award winner, and Oklahoma Hall of Fame inductee. She has naturally transitioned between stage, television and film with the charisma that only she is capable of undertaking. Needless to say, she is a down home, Oklahoma grown country girl, just singing her half pint heart out! Big things do come in small packages sometimes.
In her brand new, just released album, Some Lessons Learned, Kristin shows that she can not only reach out to her listeners, but also that she has the enchanting ability to tell her heartfelt stories. You'll know that she is the real deal. If you are a Dolly Parton fan you will love the quirky, fun loving song "What Would Dolly Do?" It is reminiscent of the song "Nine to Five." Who didn't grow up knowing those lyrics? Ok, so some weren't born yet. I know you still heard the song somewhere, probably your mom singing it in the kitchen as she was getting dinner ready.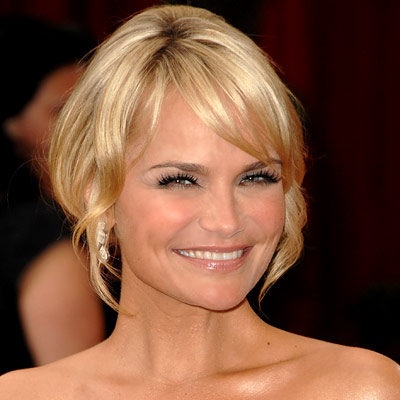 If you've been in a relationship where you have felt that you needed to put your foot down, well in Kristin's foot stomping "I Didn't," you will get the feeling that she has been there as well and that you are not alone! Ladies, you will cheer for her as she sings on about just how she wasn't going to take this guy's "crap" any more. Sorry fellas, this is one of those (fun) angry anthems women will love to sing out loud at whatever country bar you go into. Karaoke anyone?
OK now let's make up as we listen to Kristin's ballad "What If We Never." Break out the tissues as we sit and listen to this classic country sound and pay attention to the lyrics. "What if we never looked into each other's eyes?" I can't even bare the thought. How sad for all those would-be lovers right? Losing the possibility of never having that chance of knowing the joy that they could have brought to each other? Lessons Learned right? That is Kristin's self titled song on this album. She has learned from every tear, every break in her heart, and she shares her gratitude for being able to live and learn through all that she has ever been through. Let's hope that we all can learn this lesson.
Unlike so many other genres where you may not even know the words to your favorite song? "In-A-Gadda-Da-Vida" for instance (by Iron Butterfly), there is no mistaking what the words are with country music. The words and the meanings are as clear as those big blue eyes of Kristin Chenoweth's.
By Kayt Westerlund
https://www.kristin-chenoweth.com/music/some-lessons-learned
http://www.myspace.com/kristinchenoweth