When you think of the ukulele, most will picture Hawaii and the girls dancing in grass skirts. Some may remember that George Harrison of the Beatles used it regularly and Michael Kang of String Cheese Incident has utilized its sound in the Americana-Folk sound that personifies SCI. Few, however will have imagined this.
Jake Shimabukuro (pronounced she-ma-boo-koo-row) has redefined the instrument the way Bela Fleck did the banjo. On the album 'Peace Love Ukulele', Shimabukuro bounces from rock, jazz, folk, classical and even traditional Hawaiian music with ease. There is no denying the musician's ability or vision as he creates a sound that is his and his alone.
Not everybody will appreciate the sound of this album. This is definitely one of those niche releases where there will be a very loyal group, but others just won't get it. Those that do, will truly enjoy the Hawaiian native's eighth studio release. Of the twelve tracks, the two stand-outs are the studio and live version of Queen's "Bohemian Rhapsody." Yes, think about that for one moment. Possibly the most difficult rock/pop song of the modern era and Shimabukuro nails them both. These are done with just the ukulele, which is truly mind-blowing when you realize the instrument only has 4 strings and two octaves to work with.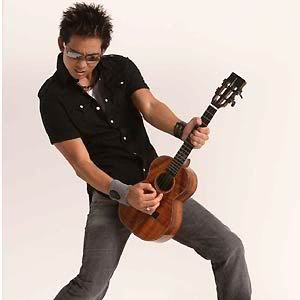 The opening track, "143 (Kelly's Song)" is an upbeat jazz piece that was inspired by memories of Jake's old high school days when "143" meant "I Love You" in pager-speak. "Bring Your Adz" is probably the best song on the album besides the Queen covers. This is as close as you are going to get to something called "uke-rock." It is reminiscent of a live jam you would hear at a String Cheese Incident show. "Go For Broke" is an homage to Japanese Americans who fought in WWII. It has that documentary/movie soundtrack feel with the martial drumbeats throughout. "Trapped" has a Dave Matthews feel at certain points. Inspired by legendary percussionist Ralph MacDonald, the song contrasts bowed violin against the plucked uke and sports a nice Middle Eastern feel.
"Variation on a Dance" is a re-tooled version of an older song. "Piano Forte" is decidedly lullaby-esque. "Five Dollars Unleaded" is one of the few misses on the album, it is a concept song that just doesn't mesh. "Ukulele Bros." features Jake's younger brother Bruce. It's everything you'd expect battling ukuleles would be. Leonard Cohen's "Hallelujah" is both bare and full of emotion. The song most recently made famous by Shrek, makes you feel every last note.
'Peace Love Ukulele' is quite an accomplishment. Shimabukuro has done an incredible job in putting this album together. The misses are few and far between. Lovers of jazz music, both traditional and fusion, will enjoy this. Hippies and jamband fans will hear some of their favorite bands in this album. New age lovers and true music aficionados will certainly appreciate it. They should, it's worth the listen.
Written by Victor Alfieri