Artist: Egypt Central
Album: White Rabbit
Label: Fat Lady Music/ILG/WMG
If you're into hard rock, pay attention to this release. 'White Rabbit' is the new record from an exciting young band, Egypt Central. The group from Memphis, TN, plays intense music of the hard/alternative rock variety. Their first self-titled record was released in 2008. It was a promising debut, filled with energetic, heavy and melodic songs. 'White Rabbit' is an anxiously awaited follow-up which does not disappoint. Three years since the last release added some refinement to the band's sound, resulting in a captivating album that is both lyrically and musically consistent. It is a great record, loud and heavy, but also tuneful and lyrical.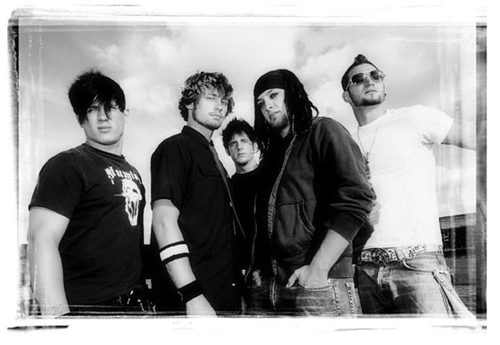 'White Rabbit' talks about a variety of personal challenges, from love to loss, from partying to addiction. The album starts with a tough, in-your-face attitude of Ghost Town. It is followed by the first single promoting the release, White Rabbit – a dark metaphorical tale signifying a start of a complicated journey. The song is a captivating piece, dramatic and full of energy. The musical intensity and poetic lyrics made this song a perfect choice as a prelude to the full release. Another interesting feature of the record is the two-part set, The Drug and Enemy Inside. The first song is a fast and intense piece, whereas the second is a moving ballad. The dynamic between the two songs changes from tough and defiant to broken and upset, which is somewhat of a recurring theme within the record.
But 'White Rabbit' is a rock record after all, and as such makes some serious noise – the key song here being appropriately titled Kick Ass. The journey through the album ends with Surrender, again a defiant but this time inspiring piece, which is followed by the closing thought-provoking ballad, Backfire. The record is a mixture of different sounds that blend together to tell a story. Twelve songs forming the release touch upon different, sometimes difficult topics and serve as warnings, but also – importantly – as encouragements. 'White Rabbit' is an ambitious album and shows a lot of promise. It's a really interesting record, clearly Egypt Central set their standards high and with great results.
The band is currently on the road promoting the album. Check out the first single from the record and catch their show in the city near you!
By Natalia Gronowska
White Rabbit by Egyptcentral
June 16 – Thunders, Pascagoula, MS
June 17 – Juanita's, Little Rock, AR
June 18 – Solarfest, Tupelo, MS
June 20 – The Riverside Warehouse, Shreveport, LA
June 21 – 3 Docs Brewhouse, Ruston, LA
June 24 – The Black Sheep, Colorado Springs, CO
June 25 – Marquis Theatre, Denver, CO
June 29 – Pop's, Sauget, IL
July 1 – El Paso Downtown Street Festival, El Paso, TX
July 3 – Summerfest, Milwaukee, WI
July 8 – Great Aberdeen Music Festival, Aberdeen, SD
July 12 – Chesaning Showboat Amphitheatre, Chesaning, MI
July 14 – Heart of Illinois Fair, Peoria, IL
July 30 – WJJO Band Camp, Madison, WI
August 12 – 95X SAUSAGE FEST 2011, Baldwinsville, NY
August 13 – Dirtfest, Birch Run, MI
More information: http://www.egyptcentral.net