If one is looking to go to a show where the energy is high, the bass is booming and the attitude is evident, they should look into seeing when 3OH!3 will be coming to their town. Boulder, Colorado natives Nathaniel Motte and Sean Foreman have left their prints all over the Billboard Hot 100 charts the past few years and don't seem to be slowing down anytime soon. The release of their second album Want and their single "Don't Trust Me" swept the nation in a whirlwind of electro-pop. The song invaded every radio station and inevitably everyone's speakers, launching the duo to stardom within a short window of time.
In the beginning, Motte and Foreman spent laboring hours on their laptops to put together head-spinning beats intended to 'wow' the masses.To a first time listener, the duo sounds as though they are attempting to mold into the hip hop scene with their fast pace beats and seemingly rap-like vocals. But when one listens closer, they will be able to pick out the perfect mesh of seamless rhythms and fluid vocals. As their music has evolved, the rap influences have gone to the back burner as more melodic sounds offer the group an alternative spin.
One thing people seem to love when they listen to the group is their indiscreet lyrics. The songs aren't all about relationships, but vary into other new realms of partying, girls, and having a good time in general. Listeners are able to have fun being able to put themselves in Foreman and Motte's place for a few minutes. On the other hand though, their songs aren't all about partying either. A few of their slower tracks like "Still Around" and "R.I.P" give an insight into their more sensitive sides which seem to be invisible behind their rock star personas. The ability to execute both types of songs is advantageous because they are able to reach out to a broader range of fans.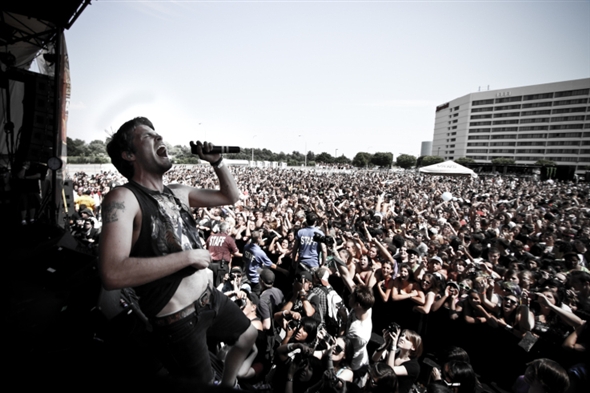 The energy 3OH!3 is able to pour into each track is evident when one listens, but what one cannot fathom is the energy they are able to put into their live show. The combination of all elements creates the perfect atmosphere for what could be considered the world's biggest dance party. The lights, the music and the large amount of people who are there to let loose all packed into one hot, sweaty room? It's unavoidable. Motte and Foreman seem to make it a priority to cover every inch of the stage and to provide some sort of interaction with each member of the audience.  One might not be able to comprehend how that is even possible, and at first I didn't either until I attended a show. The passion they have for their work is apparent, and the fact they have fun performing induces the audience to do the same. Regardless of how the night plays out for someone, they will leave the show with a smile on their face from the genuine enjoyment they received while in the crowd.
Even if one is not a fan of their music, they cannot deny that the show they put on is always one to remember. 3OH!3 is touring this fall with Hellogoodbye and Down With Webster to promote their newest studio album Streets of Gold. Be sure to head to their website to buy tickets! I will be catching them in Columbus on October 27th at the LC!