Le Voyage Dans La Lune was a silent film released in 1902, directed by Georges Méliès. Released in a fully restored version for film festivals worldwide, French pop duo Air decided to cultivate a soundtrack to the film. Guests on the album include Victoria Legrand (Beach House) and Au Revoir Simone, along with skilled studio musicians who are playing with obscure instruments that bulk up the sound on Un Voyage Dans La Lune (Wurlitzer, electric sitar and harpsichord to name a few). The duo is no stranger to soundtracks and scores, as they provided a score for Sofia Coppola's critically acclaimed debut, The Virgin Suicides. For this album, the group seems to be experimenting lot more than actually trying to impress with this offering.
Air's "Cosmic Trip"
The first track, "Astronomic Opener" sounds like an ode to trip-hop and machinery-influenced sounds which include vocal and dialogue samples. The band certainly did not ditch their electronica tag but this album lacks substance. It is a little all over the place and the direction is not entirely evident but rather confusing. At times, it sounds like an organized mess and complete disarray in sound. This could be expected from Air, since a lot of the group's material is either hit (Moon Safari, Talkie Walkie) or miss (Love 2, Pocket Symphony).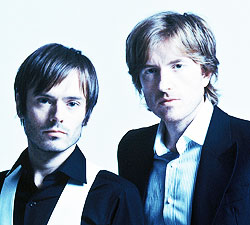 Tracks like "Sonic Armada" have high-frequency pitches that hardly come off as inventive but more annoying than anything. However, there are also some strong moments, such as "Cosmic Trip" and "Parade", which reminds a fan of the earlier material that sounded sexier and hypnotic, which made this group so captivating. There are hints on "Who Am I" of the band's dark and captivating earlier sounds but it is not present much elsewhere on Le Voyage Dans La Lune. The jazzy, brass-band samples and sound that made the band popular are noticeable but this sound is a little too improvisational.
Even the piano work (which is quite good) comes out of nowhere on a song like "Décollage", so it really is experimental but mindboggling of where this is supposed to take the listener. This is not to say that the album is a terrible effort, but it is certainly not their strongest. Obviously there is also the observation that the album might possible is supposed to be played in sync with the film, or maybe the film should have stayed silent. But purely as an album for the ears, it lacks.
It is safe to say there have been brighter moments in the history of Air.
By Alex Giardini | OurVinyl Contributor
@gilawhoyouknow